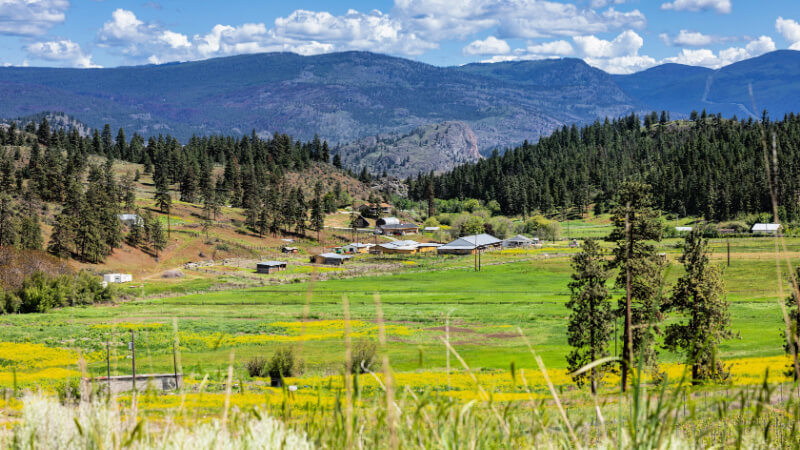 BC Land for Sale – What You Need to Know About Real Estate and Water Well Systems in the Province
Our office receives hundreds of phone calls a year regarding BC Land for Sale, people requesting information about purchasing Land for Sale in British Columbia and what they need to know when buying property in a rural area of the province. More often than not the #1 question is typically about servicing BC Land for Sale with a water source.
Why this Article is Important for Purchasing BC Land for Sale
For the purpose of this article BC Land for Sale includes all real estate in the province that will require or is currently serviced by a water well and or septic system.
If property or land for sale in British Columbia is not serviced by a municipal or community water system then them most properties in the province will either have or require a private water well and or septic system.
Colleen Roberts did work in the BC Real Estate industry for 10 years followed by 30 years in the BC Groundwater and Water Well Industry. She has assisted purchaser and sellers for many years navigate through the maze of information often required when purchasing properties serviced by water wells and septic systems in British Columbia and continues to do so.
Disclosure:
This article is not intended to be used as legal advice (Colleen is NOT a lawyer), consider this information as a guide for purchasers and sellers who may need information when purchasing BC land for sale in a rural area of the province. If you require legal advice please consult with a BC Lawyer.
The Rural Migration Trend in British Columbia
Millions working from home throughout the world during COVID-19 proved that you don't need to in an office downtown to get the job done. As a result, many are planning for the "new normal," with good rural internet providers they see remote working as an opportunity to move out of the city into a rural area with more room and lower property prices.
And with real estate agents across British Columbia seeing an increase in inquiries from urbanites for BC Land for Sale including farms for sale, rural land for sale, timber land for sale, and lake cabins for sale in rural areas, potential sellers see it as an opportunity not to be missed.
Between Covid-19 and rural internet connections it's been a game changer for rural area BC land for sale creating more demand for specialized information and real estate agents who are experienced with rural area land for sale in British Columbia, a market that requires in-depth knowledge to protect both buyers and sellers.
BC Land for Sale and What You Can't Afford to Ignore
Whether you are a buyer or seller, however, there's one aspect you can't afford to ignore: Water!
Rural properties in BC are typically not connected to a municipal water supply or sewage systems. Domestic water for human consumption and other purposes—such as animals, irrigation or swimming pools—is generally provided via one or more private water wells located on the property. Buyers, therefore, need to educate themselves on what to look for when investigating potential properties—and when choosing a real estate agent. Sellers, in turn, need to be able to verify the year-round quality and quantity of their well water or water source.
"We seeded one acre of grass, bought turf for a grassed dog run, and planted just over 720 cedar trees to create a hedge around our property. We used an old dug well linked to a new dug well we installed during construction for irrigation.

Both wells ran dry by the end of July 2018."

— E & E Cameron, Parksville
Buyer Beware: Before you Buy BC Land for Sale with a Water Well
Most homebuyers would never dream of purchasing a home without arranging for a thorough home inspection. You may be surprised, then, to find out that some BC property owners have no idea they're even using well water on their property—until the well runs dry!

That's often when the headaches—and the expense—begin.
"We drilled wells at three locations as far the bedrock at the cost of $33,896.76. The first well was dry, and the second and third wells—which are the source of our potable water—were only good for 0.5 and 1.0 gallons per minute (GPM), respectively. After our irrigation wells dried up, we drilled the fourth well at the cost of $7,381.50, but it was also dry."

— E & E Cameron, Parksville
5 Steps When Buying BC Land for Sale in a Rural Area
People often purchase a home with some property or BC land for sale without knowing what to look for or do when the water supply consists of a private drilled well and septic system. Here are five aspects you need to think about before, during, and after your purchase:
Choosing a real estate agent
Exploring the market
Making an offer
Closing the deal
Looking after your water supply
Choosing the Best BC Real Estate Agent for You
If you've always lived in a home connected to a municipal water source and are looking for BC land for sale, find a BC Real Estate agent with lots of experience in rural area properties. Real estate deals involving water wells and septic systems among many other things require an experienced real estate agent with this specialized knowledge.
Reputable agents with several years—if not decades—of experience in your chosen area of the province are there to guide and protect you. Far to often I see real estate agents involved in BC land for sale deals that have no business being involved… they have neither the knowledge or the resources to represent the client. It would be better to refer the client to an expert who does have the capacity
Don't hesitate to shop around, interviewing three or more agents before selecting the one you feel you can trust and will represent your best interest when purchasing BC Land for Sale.
You are needing a licensed, trained, insured, ethical business real estate agent who understands what it takes to purchase Land for Sale in BC including raw land, ranches, working farms, hobby farms, agricultural land and rural development land. Most of them will have years of hands on BC real estate experience with a deep understanding of the specialized knowledge required to work in rural land sales.
Water Wells and Non-Disclosure
Non-disclosure when purchasing real estate with a water well should be expected in British Columbia, so it's extremely important to do your due diligence before signing with an agent or finalizing your purchase.
One way to identify a trustworthy agent is to ask them if their personal service includes collecting water samples, sending them to the lab, and delivering the reports. The answer should always be a quick and definite "NO."
What is a Conflict of Interest?
No agent wants a problem with a deal, I understand that… but a bad water well can be a deal-breaker and most agents know that too. Maybe the lab will discover a possible contamination issue or a well pumping test that quickly determines the well goes dry, these are potentially very serious problems with a private water source. That's why most professional BC real estate agents will not get involved in sampling well water and water testing—it's a conflict of interest for a sales agent to do so and most agents just won't do it.
While unscrupulous sales agents are few and far between, it's best to keep everything above board by looking after your own water testing, it's really best best to work with a third party that has the experience with water sampling and interpreting the results of a water analysis report.
Poor Water Sampling Procedures May Cause Unnecessary Concern
Remember as a purchaser you are concerned for your best interests but the vendor also needs to be considered and protected equally. This article focuses on BC land for sale and water well issues but we must remember there are many water systems that so not have a problem but this can not really be determined without testing and inspecting.
If someone draws water samples and does make an error while sampling resulting in a failed water report from the lab… this is not good for the seller either especially if there isn't a problem! Now everyone has to go the extra mile typically on the 11th hour to determine if the well even has an issue or if the problem was caused by improper sampling procedures.
What…. Chlorine in Water Samples?
Now this is an issue, it's not uncommon for water samples to end up at a lab containing a chlorine residual, city water samples replacing real well water samples. While this trick may prevent a failed report from a contaminated water well upsetting a deal it's very unethical and potentially dangerous.
Always find an independent water well inspection company in your local area who handles the water samples and a complete inspection of the water well system when possible.
Local Water Treatment and Well Pump Companies
Remember water treatment companies are not really independent or at arms length either, failed lab reports, contaminated water wells and deteriorated water systems including the well pumps often turn into an opportunity of upselling of equipment and water treatment systems… maybe deemed another possible conflict of interest. Especially when you have a deal ready to go down the drain and there is lots of pressure to keep it together, out of fear people will often agree to just about anything.
Replacing a Water Well System is Costly
When you are talking about a private water system on BC land for sale that may be worth more or less $50,000 to $75,000 to replace if even possible with the addition of a lot a lot of time and effort involved I think we should be dealing with the water systems on BC land for sale accordingly.
Why is the onus put on the purchaser to discover the problems with a water well system on a property that that may purchase? A lot of money can be invested into all these inspections and at the end of the day the purchase just walks from the deal.
Most people don't want a well that goes dry or offers very limited water for part of the year, wells can also experience seasonal changes. I speak with people almost daily who have been left in these situations with nothing to fall back on except their own resources and almost always they would have walked from the deal had they known about the water issues that they would have to live with.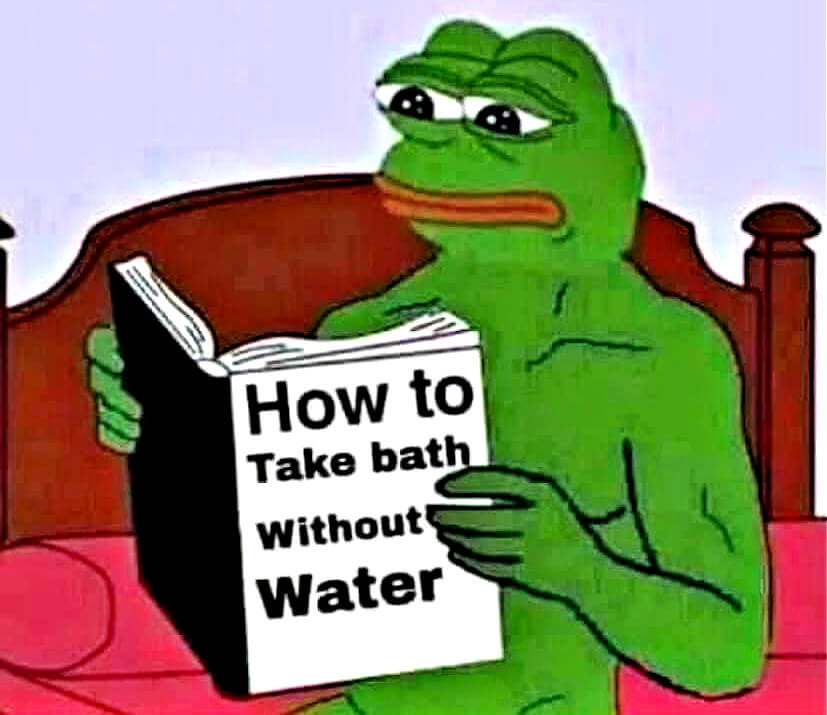 Water Well Problems Typically Are Not Sudden
Much of this can be and should be disclosed at the time of listing a rural BC land for sale , vendors know when they have a water well issue and that is why there is so much non-disclosure when is comes to the sale of BC land for sale. The cost of repairing or replacing is often not something the vendor wants to do or they would have done it long before they decide to sell as water well issues or deterioration is often gradual and long-term, they don't typically just occur
The property may get sold without expenditure and now the new owner quickly discovers that they may be looking at significant legal cost to seek a water well remedy so, rather than throwing good money after bad the new owner either limps along and lives with the situation as it is or they just find it completely unacceptable and if financially able they may install a complete new water well system.
Purchaser Agrees to Purchase BC Land for Sale "as is where is"
When the BC real estate market is very active there are usually always competing offers, so here we go with the fear of loss and panic buying… the purchaser is told to make their best offer as they will be completing with other buyers.
The best offers are often "subject free" when it comes to the water well system but the counter offer may include a clause stating the "purchaser agrees to purchase the subject property as it where is," often without water testing or an kind of inspection.
But what else can you expect for a buyer that comes from the city perhaps who has never been on a water well or a septic system and is represented by a BC real estate agent that may not even know what a water well looks like? There needs to be much more accountability in place to protect.
BC Land for Sale – Sellers and Water Test Results
Water sampling can leave plenty of room for error if not done correctly, if a contamination issue is indicated on a lab report it may not be correct due to improper water sampling etc. As a seller you are informed that you have a contaminated water well. This may not be the case at all and you really don't want to have your well labeled as contaminated especially by a non-expert.
This is where past water reports come in handy… a track record of your water quality is the best information you can have for your water well.
Before your property goes onto the market it's important that your water system is inspected and the water is tested. Verify the quality of your well water for your own protection, I always recommend an essential drinking water test, it's affordable and perfect for a property owner and a purchaser as it complies with the Canadian Drinking Water Guidelines which ensures your water is safe to drink.
Once an offer is presented on your property the purchaser will still do an independent water test on your well water but if there is a water quality issue you will have your own report to compare.
Try to take care of all water well issue prior to listing, it just makes the selling of BC Land for Sale so much easier and less costly than to have a laundry list of water well problems pop up on the eleventh hour that may cause the purchaser or mortgage lender to walk away.
Note: There are reliable, fast, easy ways to test well water for toxins, lead, coliform, and other contaminates.
  
Next... Water-related leading questions to ask a potential realtor

BC REAL ESTATE
Learn from the Experts When Buying or Selling Land for Sale in BC
Meet some of the best Real Estate Agents in British Columbia – licensed, trained, insured, ethical business specialists who understand what it takes to sell or buy land for sale.
Learn more about rural area land for sale in British Columbia including ranches, large farms, hobby farms, rural homes, vacant country land, recreational land, cheap rural land for tiny homes, and other rural development land.
Water-Related Leading Questions to Ask a Potential Real Estate Agent Prior to Purchasing BC Land for Sale
How many properties without a municipal water connection have you sold?
What should I know before buying a property with a drilled water well for potable water?
What should I know about water licensing in British Columbia
How do I have the water system and water well inspected for condition and capacity?
Should a pumping test be performed to insure the well produces adequate water?
What steps did you take to confirm the availability of a secure source of potable water?
Have any of your clients experienced problems with their water wells after purchasing through you?
Can you provide a list of clients I can call who purchased properties with water wells?
Who is responsible for collecting water samples and sending them to the lab for water quality tests?
Is it a conflict on interest for a water treatment company to be handling my water samples?
What conditions will be included in an offer to ensure I have a year-round, safe water source?
How will it be determined if a water well on a property for sale in BC goes dry at any time?
It's important to hire a competent real estate agent to represent both purchaser and sellers of BC land for sale serviced by a water well, they should be very knowledgeable about selling Real Estate with Water Wells & Septic Systems
Purchasing BC Land for Sale – Suburban vs Rural Area Properties
Once you've chosen an agent and identified potential real estate in BC that meet your needs, due diligence begins. If you're the independent type who likes to do things themselves—or are buying a vacant property—this step is even more critical.
Purchasing a rural property is very different from buying one with a municipal or community water supply, with water awareness and conservation the rule rather than the exception. While there are many reliable water systems located rural area BC land for sale, when the anticipated—and indispensable—water supply dries up, buyers can find themselves in a highly stressful—and potentially costly—situation.
"We drilled wells at three locations as far the bedrock at the cost of $33,896.76. The first well was dry, and the second and third wells—which are the source of our potable water—were only good for 0.5 and 1.0 gallons per minute (GPM), respectively. After our irrigation wells dried up, we drilled the fourth well at the cost of $7,381.50, but it was also dry."

— E & E Cameron, Parksville
Water well issues are often not discovered until after a purchaser has moved in to their new property. In British Columbia, there's little protection when dealing with private water well systems, with many deals being a situation of "buyer or seller beware". Many buyers purchase a property only to find their wells drying up in mid-to late-summer (this is especially true of shallow dug wells) but drilled wells can just as easily not produce enough water and go dry.
If water becomes an issue, your only recourse is to try to repair a well (unlikely), drill a new well or initiate a lawsuit. All options are costly, but taking the matter to court won't give you the water you need. Instead, do your due diligence up front and not get yourself into the situation in the first place.
Remember, the interpretation and opinion regarding a water well may vary significantly between sellers and buyers. A seller used to living in drought-like conditions may see a seasonably dry well as normal. However, a buyer from the city may not view reusing bath water to do the laundry as acceptable… it happens.
Some water wells even with careful rationing will go dry leaving the property owner with little choice but to haul water bulk water until their private water well begins to recharge which can take months, it can turn into an awful situation quickly and most people are simply not prepared to live without a reasonable supply of water.

Has Bulk Water Been Hauled to the Property Before?
One aspect not often freely disclosed is whether water has ever been hauled to the property and why? Don't be afraid to call the local water hauling companies near you in the area and ask if the property's address is in their database. The time spent may save you a lot of headaches… unless you want to haul water too.
Additional water storage tanks, rain barrels, a rain water collection system, landscaping in poor condition may also be indicators that the property is lacking water. Often a property owner will have a water tank on a trailer that is used to make regular trips to fill with water.

The local water haulers can become very costly so many property owners opt to haul much smaller volumes of water on their own but will need to fetch water more often by doing it this way. There is just nothing good about having to haul water whether you are able to afford a local bulk water hauling company or need to DIY by setting up water tank on a trailer.
BC WATER TESTING
Water Testing in British Columbia & What You Need to Know
For those who have a private water well or water supply, the responsibility for safety and treatment is sole responsibility of the property owner and or landlord. As a property owner in British Columbia with a water well you are responsible for assuring your water is safe.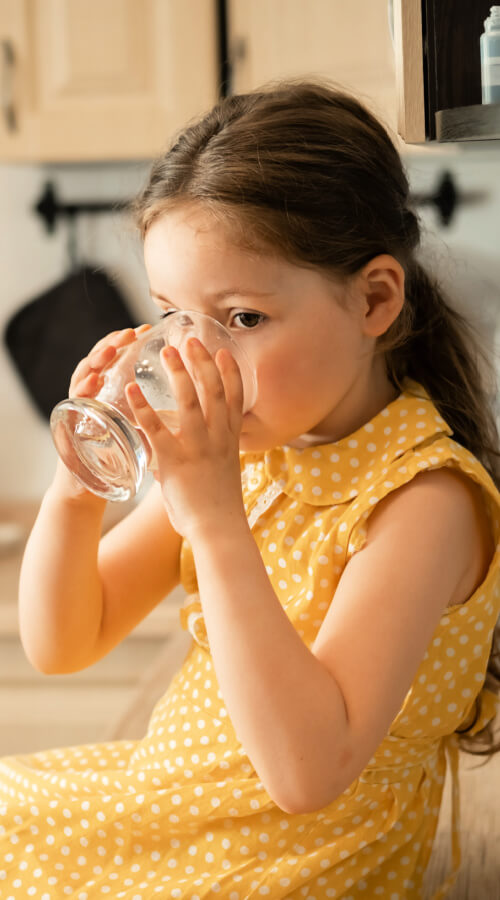 Water Tank Storage Systems
Over the past 30 years I have learned that a BC property owner who decides to sell their property with a water well issue (either quality or quantity) and choses not to disclose as it might cause the loss of a sale may instead have a large water storage system in place on the property… it might be connected to the water well BUT sometimes they water will decide to clean to water storage tank and pay for a water hauler while the property is on the market keeping the water storage tank clean and topped off with potable water.
An unaware purchaser will see the clean water from the water storage system running through the water taps in the home, the water quality well looks fantastic, right? Water samples are collected and it's not a surprise that the water analysis report indicates water that meets the Canadian Drinking Water Guidelines.
When I see a report that clean I would look at it as maybe just a little to good to be true, because it might be, especially if it's raw water from the well supposedly topping of the water storage tank. If you have lot's of experience with water chemistry and systems you'll pick up on this tactic.

Every once in awhile some severe cases of misrepresentation become apparent, some situations are just clearly downright fraudulent and can become a real problem for an unaware purchaser or real estate agent in British Columbia. Unfortunately it's often the purchaser stuck will the cost to resolved the problem. Whatever a vendor warrants get it in writing, do you inspections and water testing, it's must less expensive than paying a huge well drilling and water pump invoice to replace what you might have thought you had.
It's important that situations like the above example can be noticed quickly, even the most experienced real estate agent may be fooled by a seller, there are lot's of tricks if that is the game that a vendor wants to play. Fortunately this example leans on the side of extreme but, be aware even though most sellers would not use this tactic some have.
BC Land for Sale – The Good the Bad and the Ugly
I would like to quickly point out that there are many types of water systems in rural areas of British Columbia… some water well systems are GREAT, the owner has a good water well and has maintained the system nicely. Other water systems are not so good and then there are the really bad systems that should not even be deemed a viable water system in this day and age.
This article is not intended to have you running from an BC land for sale opportunities that may have a water well… but I'm providing information that will help prevent problems down the road when purchasing real estate with a water well in British Columbia.
Important Water-Related Questions and Documentation
When considering BC land for sale ask questions about the water well and request copies of the well record also known as a well drilling report or well log along with water quality test results to understand the property better. If the property requires financing, your mortgage provider may request some—or all—of these documents before committing to a mortgage.

Documents that should be disclosed by the seller or their agent include:
A copy of the well record (well drilling report) if available, the report may also be available online.
All past water quality test results (many property owners test annually)
Yield test or flow results if a pumping test has ever been performed on the well.
Closed wells (decommissioned) on the property
Installation records and receipts for the mechanical side of the system – pump, pressure system, water storage system, water treatment, filtration, and sterilizers, etc.
It's important to understand that you are in a "Buyer Beware" situation when it involves Real Estate and Water Well is British Columbia. You have every right to expect full disclosure from the vendor but the truth does not always prevail and once you are the proud new owner of a water well that notoriously goes dry each summer you will find that you typically have very little protection after the fact, no one is going to pick up your phone call and offer to drill you a new water well Do your due diligence prior to purchasing BC land for sale.
Ask the right questions and conduct a water well system inspection, water tests and maybe a pumping test to insure that you will not need to spend upwards to $50,000 to install a new well and water system.
What Happens When the BC Real Estate Market is HOT!
Plenty happens when people are under pressure to make real estate purchasing decisions because of fear of loosing out on a deal. Normally, water well inspections and water test reports take up to 2 weeks to complete, mostly because of the analytics. Most water test laboratories require 10 – 12 days to complete the package for a private water well located on BC land for sale.
When the real estate market is booming in British Columbia purchasers may be told at the time of offer that they do not have 2 weeks to do their due diligence on the well as they may be completing with a dozen other offers on the BC land for sale so they take their chances and make an offer without any subjects pertaining to the water well.
Water well replacement is very costly, the cost of drilling a well in British Columbia has increased substantially over the past couple of years, when you purchase BC land for sale and don't account for the cost to drill a well you might be in for a surprise.
Once a purchaser has taken possession of their new property that's when the truth often becomes apparent. We receive many requests for water well drilling estimates throughout the drilling season, from about June to January and the majority of them is because the existing well has gone completely dry or is not producing enough water to even sustain a home.
I always ask the property owner how long they have been on the property they, often admit they are new to the property and were told they had plenty of water only to discover they have a major water issue… the well has gone dry and often the well goes dry every summer but they were not informed.
BC Land for Sale – Who Pays the Bill?
At this point if you are new to a property and your well goes dry I promise, there will not be a flurry of people stepping up to the plate to help you with your new financial burden, I've heard the stories… hundreds of them over the past 30 years.
If you are looking to purchase BC land for sale serviced by an existing water well you are in a "Buyer Beware" situation in British Columbia and unless you want to throw a ton of money at legal fees you may as well accept that you will most likely be paying the entire cost to drill a new water well and installing a new pump, pressure system and maybe a water treatment system too.
What is the Cost to Drill a Water Well in BC?
The cost of drilling a well in British Columbia will vary greatly. It depends on so much. If you want to learn more about the BC Well Drilling Cost it's important to have a detailed well drilling estimate completed for the subject property.
Well drilling costs may range from about $12,000 on the very low end to $50,000 on the high-end and that's if you are only drilling once and don't drill a dry hole on the first attempt. There are other costs to installing a new water system once the well is drilled such as the well pump, water system, and possibly water treatment system.
Whether you are purchasing BC land for sale that does not have an existing water well or you need to replace an existing water well it will require detailed well drilling cost estimate to determine the cost to drill in your local area.
You can see that choosing to work with an experienced real estate agent when purchasing land for sale in a BC rural area may prove to be invaluable, there's more to consider than just the water well system and what this article covers but rural area real estate agents will protect you better than an agent that has little to no experience with these types of properties.
BC Land for Sale with a Water Licence
If groundwater is used for any non-domestic purpose, the property owner must have a water licence (or have applied for a water license by the deadline of March 1, 2022.) If that's the case, request copies of:
• The water licence
• A recent invoice from Front Counter BC, detailing annual water rentals and any outstanding yearly rentals or late payment charges
When a water licence is attached to a property, it's transferred to the new owner together with the associated water fees and rentals, including any unpaid or overdue amounts. If that's the case, talk to the current owner about bringing the account up-to-date.
You can search the water rights databases to determine whether a water licence has been issued to the property for the use of groundwater for non-domestic purposes.
What Uses in British Columbia are Deemed for Domestic Water Purposes?
Generally, domestic water use in BC includes the use of water for basic household water use as well as providing water for animals and livestock used by the household, this does not include commercial uses or pets.
Under section 2 of the Water Sustainability Act, "domestic purpose" is defined as follows:
"domestic purpose" means the use of water for household purposes by the occupants of, subject to the regulations, one or more private dwellings, other than multi-family apartment buildings, including, without limitation, hotels and strata titled or cooperative buildings, located on a single parcel, including, without limitation, the following uses:
(a) drinking water, food preparation and sanitation;
(b) fire prevention;
(c) providing water to animals or poultry kept
(i) for household use, or
(ii) as pets;
(d) irrigation of a garden not exceeding 1,000 m2 (10,763.9 sq. ft.) that is adjoining and occupied with a dwelling;
Examples of water users that fall under "domestic water use purpose"
There may be different situations that arise which also fall into the domestic use purpose. Below are common examples that are often domestic use purpose.
Landowner(s) supplying water to one primary dwelling.
Multiple owners of a parcel of land (e.g., land title for the parcel is in joint ownership or ownership in common) who jointly own, operate and maintain the water supply system and use the water for household purposes for multiple dwellings on the parcel of land (other than multi-family buildings, such as apartment buildings, strata developments or cooperative developments). This is different from a strata-titled development where the common property of the strata corporation includes the water supply system, in which case the strata corporation or cooperative would require a licence for waterworks purpose
One landowner, who owns, operates and maintains the water supply system that delivers water to a private dwelling that is rented or leased to others. The owner may have multiple rental dwellings on the parcel.
Learn More About Water Licensing in British Columbia
Domestic Water Use in British Columbia
Water Licensing and Rights in British Columbia
British Columbia Water Sustainability Act
BC Water Sustainability Act Groundwater Licencing Deadline
British Columbia Water License Deadline
A critical deadline for select groundwater users expired on March 1, 2022
March 1, 2022 was the final deadline to apply for a water licence for "existing groundwater users in British Columbia" – those who were using groundwater from a water well or dugout on or before Feb. 29, 2016 for non-domestic purposes such as irrigation, commercial or industrial use. A BC water licence is not required for a household well or groundwater used for domestic purposes within the province, such as watering small lawns and gardens not exceeding not exceeding 1,000 m2 (10,763.9 sq. ft.)
There could be serious consequences for property owners who missed the March 1, 2022 deadline. Existing groundwater users who have not applied by the deadline will be unauthorized and must stop using water immediately.
British Columbia property owners who missed the deadline will be treated as a "new user", they will lose recognition of their historical date of first use, and the licence may be refused in water-stressed areas. The historical date (FitFir) is crucial because older licences get priority access to water during water shortages.
First in Time – First in Right (FitFir)
Water rights in BC may be exercised under a system of priorities according to their respective priority dates. This is commonly referred to as 'First in Time, First in Right' or FITFIR. During times of water scarcity, licensees with the earlier priority dates are entitled to take their full allocation of water over the junior licensees.
For example a water licence with a 1930 priority date would have precedence over a licence with a 1960 priority date, regardless of the purpose for which the water is used. The WSA maintains FITFIR, but introduces some modifications.
Missing the deadline could be costly and may include fines for unlicensed use of groundwater. Water licence applications made after the deadline of March 1, 2022 would not have benefited from the waived BC water licence application fee and may now require costly studies to support a water licence application.
Purchasing Land Without Water
Due diligence is also essential if you're planning to purchase BC land for sale and build on the property without existing access to water. The lack of water can often be put down to a couple of reasons:
• Subdivisions: Most areas today are governed by subdivision and development regulations with a proven water source required to satisfy the conditions. However, a property may have been subdivided before there were regulations requiring a proven water source to be available for the subdivision to be registered. The seller will still want top dollar for the property but will probably be reluctant to spend money on verifying water availability.
While that doesn't mean there's no water on the property, it does mean someone will have to pay for a new well to be drilled and water found to service the property. This raises several questions:

• Who pays for the water exploration and drilling?
• What is the risk of buying the property without water?
• Will your lender—if required—be willing to attach
a mortgage?
• Failed well drilling attempts: Some properties have been drilled several times without finding water, or maybe the groundwater is too deep to make drilling financially viable. This doesn't necessarily mean there's no water on the property, but it's unlikely the seller will readily admit to having spent $30,000-50,000 or more trying to locate water before finally giving up unsuccessfully. Ask the seller the following questions:
Questions for the Owner of BC Land for Sale
Has the property ever been drilled for water in the past?

If so, how many times, where, and to what depth, how much water was located or was the well dry?

When was the last time the property's water well(s) were inspected?

What supporting documentation is available?
While these situations may be concerning, it's possible that water simply has not been located—irrespective of the number of past drills. There could be plenty of water on the property, but the drillers just didn't know where to drill.
When talking to sellers and their agents, make sure you agree on the definition of what a water well is. Some properties are serviced by shallow dug wells—relying on seasonal rainfall—that are not viable as a trustworthy water source.
Note: When exploring the availability of water, always use a certified well-driller with a proven reputation for finding water.
BC Land for Sale with Shared Water Well Systems
As you might expect, it's always best to have your own, independent water system. However, suppose the property under consideration is currently serviced by a shared water well system and there are lots of them in British Columbia. In that case, you need to be aware of the implications—especially if the well is on another property.
A shared well is typically located on one property along with a submersible pump. There can be two or more properties sharing a water well and the shared well agreement can be set up many different ways.
Neighbours accessing the well water are generally expected to share equally the costs associated with the well, including electricity, maintenance, and repairs. Once the water reaches your property, you may be responsible for the water treatment and pressure systems required to meet your needs.
Shared wells in British Columbia should be registered, maybe licenced and certified—with all documentation available for review—for the neighbouring property without a well to secure a right of access.
If a verbal shared well agreement is the only thing in place and your neighbour decides—as the owner of the well—to stop sending water to your property, you may have little or no legal recourse. And even if the handshake agreement is working perfectly for a time, you need to be aware that your neighbour may sell at any time, and the next owner may not be as amenable.
If you're purchasing the property where the shared well is situated, you definitely need to have a lawyer review all documentation prior to purchase and consider the following questions:
Shared Water Well Agreement Tips
What is the average output of the well in the dry season?
How is the water distributed between the interested parties?
Will the well still meet our needs should usage patterns change?
What happens if there is a dispute over water rights?
Is the shared well agreement registered on the title
Is there a registered right away?
Is there a contingency fund in place?
Are there water meters installed so that all financial costs are allocated fairly?
Is the system legal in British Columbia?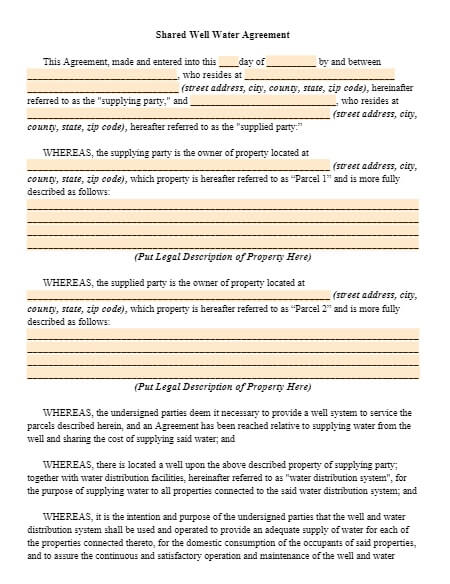 Shared Water Wells in British Columbia
If the thought of having to share your water with a neighbour disturbs you, it may be wise to move on and find another property, regardless of whether or not it's registered. If the well is on the neighboring property, the wise course would be to safeguard yourself by simply drilling your own well if possible.
IMPORTANT: If the property has its own well, but it's near the property line, verify that it really is within the boundaries. When it comes to water well never rely on visible signs such as fences, hedges, or walls to determine ownership.
Many property owners have found—too late—that their existing or newly drilled well is actually on their neighbour's land. If a well is situated—or a potential drilling site identified—close to the property's boundary, it's worth the time and expense to get a proper surveyor's report.
There has never been an established horizontal setback for water wells from property boundaries in British Columbia, I tend to use a 10′ rule when we get that close while drilling to a boundary.
While not all wells are listed since registration was voluntary until February 29, 2016, BC's Well Search provides a comprehensive list of over 120,000 wells drilled in the Province although there may be over a million water wells in service in the Province. The BC Wells database includes well construction date, depth, yield, and other information.
Get to Know the Neighbours
One of the best ways to find out about water issues is to talk to the neighbours. They're often familiar with the water well quality and yield of surrounding properties and can be a veritable gold mine for understanding the actual state of water in the area.
Making an Offer on BC Land for Sale
Now that you've identified a property and done your due diligence, the next step is putting in an offer. Unanswered questions about the water situation—or even a lack of water—don't have to be a deal-breaker. However, it will most likely affect the offer you make and the conditions of sale.
The most important thing is to put in an offer, including any conditions that you feel are needed to protect your interests. It's common for a purchaser to feel pressured to put in an unconditional offer for fear of losing out in a hot real estate market. Only after occupying the property do some owners discover what "unconditional" really means.
When it comes to water, do you really want to take a chance?

While buying a property without a water well producing the desired yield isn't in itself a problem, drilling a new well may easily set you back $20,000 or more. But with all of the other expenses involved in a move, is that something you want?
Make Your Offer Clear
If you have any concerns, don't be afraid to make a conditional offer with a "subject to" clause verifying the availability of sufficient water supply and inspection of the existing system. Condition clauses can easily be removed, so be persistent and don't sign the offer until it covers all your concerns.

During the due diligence process, you probably asked lots of questions and got lots of answers. Now—with your money on the line—disregard everything you heard. If you don't already have copies of the documentation referred to in the previous section, ask the seller to disclose anything and everything related to the property's water supply, including:
• A copy of the well record
• A history of the well being pumped dry
• Water quality test results
• Yield test or flow results
• Closed wells on the property
• Water licenses for wells drilled for non-domestic usage
• Registered agreement for shared water rights (if applicable)
If all the answers are positive, ask the seller to warrant the history of the well. If there have been no issues, they'll be happy to agree.
Water Well Inspections
It's recommended that all offers on properties not attached to a municipal or community water source be made subject to a complete water well system inspection and satisfactory water sample results. If you're applying for a mortgage, the lender may require a water well assessment and water analysis to ensure the well complies with Canadian and British Columbia drinking water guidelines. Disclosure laws and customary real estate practices may also govern water well and drinking water issues.
Even if everything looks above board and you don't require a mortgage, make your offer conditional on a water system inspection. It may set you back around $1000, but it'll give you peace of mind. If a purchaser knowingly purchases a property without a secure water source, they are fully responsible for the costs of locating and drilling for water. If a seller sells a property without an adequate water supply, they are responsible for providing full written disclosure. If not, they may be liable to legal actions initiated by the purchaser.
If tests determine a new well is required, the best thing is for the parties to negotiate the drilling costs before going any further.
Closing the Real Estate Deal
When you made an offer on the property, your realtor should have added a clause that allows you to go back to see the property before closing and a warranty confirming all appliances and systems will be working upon taking possession.
You'll need to arrange a time with the seller for a pre-closing inspection of all the appliances, heating, plumbing, electrical, and water systems as close as possible to the closing date. Ensure the seller has completed—or is scheduled to finish—everything they promised before you close. Verify that anything related to the water system—including digging a new well—agreed upon has been done. You should also be allowed to complete water quality and yield tests.
Refer to the home and water inspection documents completed before removing the conditions attached to the offer to purchase. Ensure the home and water system's current state complies with what was discovered and any remediation agreed. If there are any changes between contract and closing, negotiate with the seller the necessary redress and immediately inform your agent and lawyer.
Looking After Your Water Supply
As the owner of a water well, you are responsible for the quality of the water. As a result, it's essential to care for and maintain your well correctly.
Care and Maintaining of Your Water Well is Important
As the property owner, you may perform some routine maintenance. Still, most of it must be carried out by a registered well driller to protect the groundwater supply from contamination as required under the Groundwater Protection Regulation. Maintenance may include the following activities:
• Removing a well from a pit
• Constructing, maintaining, or decommissioning a dug well
• Constructing, maintaining, or deactivating a drilled well
• Ensuring the structural integrity of the well and the surface seal
• Replacing a well cap or cover
• Disinfecting your well
• Building and maintaining a pumphouse
• Maintaining clear access to the well
• Ensuring floodwater does not flow into the well
If you purchased a property without a secure source or your wells run dry, you may have to drill a new well.
What Does It Cost To Drill a Water Well?
The cost to drill a well in British Columbia has increased significantly, so if you're going to drill, you need to know where to drill before the well driller arrives on site! The final price varies depending on the location, depth, and typical costs associated with drilling a well. Some well drillers have a fixed minimum price for the first 100 feet, with a price per foot for anything beyond that. If you're in a remote or difficult to reach area, additional costs may apply.
"I've heard story after story of people spending thousands of dollars—some most of their savings trying to find water on their properties."

— Evelyn Bedard, Bedard Ranch, Hefley Creek, BC
There are additional well drilling costs for the annular seal, drive shoe, pitless adapter, well liners, pump test, stainless steel screen, and developing the well further to increase yield (Note: if you don't understand all the terminology, you're not missing anything it's all part of water well construction).
Finding a productive well also means having a trench dug for the power and waterline and investing in a water pump sized according to the well's depth and flow. And if the well production is low, you'll probably need to purchase a cistern costing $2500 or more. Water well costs are something you don't want to experience if you a purchasing BC land for sale and then discover that you have major water well issue once you have taken possession.
Drilling for water is a long-term investment, so don't drill until you know where to find water! When planning a new water well, always use a certified BC well driller.
Testing the Quality of Your Water
British Columbia property owners relying on wells for potable drinking water they are also fully responsible for testing the water from their private water well regularly to make sure it is safe to drink.
According to Canada's government, disease-causing organisms leach into groundwater through surface runoff of fertilizers, manure, pesticides, and nitrogen, finding their way into shallow wells through coarse-textured soils. Forestry, manufacturing, mining, waste disposal, and runoff from urban areas also contribute to declining water quality. As a result, "the risks associated with ingestion can be very high for rural families who rely on untreated drinking water sources."1
Are you serious about the health of yourself and your family? There are water testing labs service applying toxicological and epidemiological research to give you an accurate contaminant profile of your water, along with unbiased treatment matching and up-to-date health risk analysis.
Seller Beware: Before You Put Your Property on the Market
Private water wells often offer a safe, modern, and affordable clean water source, with the homeowner in control of the water supply. So many people would love to have a water well on their city properties if they could.
As a property owner, ample evidence of an abundance of quality drinking water increases your rural property's marketability. And even if your water supply is sufficient rather than plentiful, the quality of your water can be a decisive influencing factor in favour of your property when it comes to an increasingly water-aware buyer market.
As a seller, imagine the thrill when your agent calls and tells you that someone's put in a great offer on your property. But what happens to that joy when you're told the offer is conditional on water quality and yield tests? Do you get a sinking feeling in the pit of your stomach? Or is it like water off a duck's back?
The answer to that is whether you've checked your water or not. With some buyers of BC land for sale being more far more informed and agents reputations on the line, you need to put yourself in the shoes of the buyer before you place your property on the market:
• What tests are needed to prove the quality and flow of my water?
• What documentation will a serious buyer need to verify an ample supply of potable water?
• What will I do if I find a problem with my water supply that needs to be addressed?
• If I can't remediate the problem, what solutions will I offer to win over a potential buyer?
Now—with your future on the line—make sure you have everything a buyer needs in terms of tests and documentation relating to your property's water supply, including:
• A copy of the well record
• Is there a history of the well being pumped dry?
• Water quality test results
• Yield test or flow results
• Closed (decommissioned) water wells on the property
• Water licenses for wells drilled for non-domestic usage
• Registered agreement for shared water rights (if applicable)
Complete Your Water Well Documentation
Note: Water testing will often produce bad results—such as high coliform or a fecal/E. Coli contamination because of inadequate sampling procedures. Don't allow anyone—and never a realtor—to sample your well unless they know what they're doing and are experienced with water systems and water sampling.
Instead, do it yourself following the exact procedures and water testing kit instructions from a certified British Columbia water testing lab, you will have your own lab report available that may become valuable as you move closer to an offer being accepted on you property.
To increase the chances of having a profitable, problem-free sale, take the time to make sure your water file is complete before you put your property on the market. And if you know you have a water well issue, be prepared to either resolve it or fully disclose it before the sale.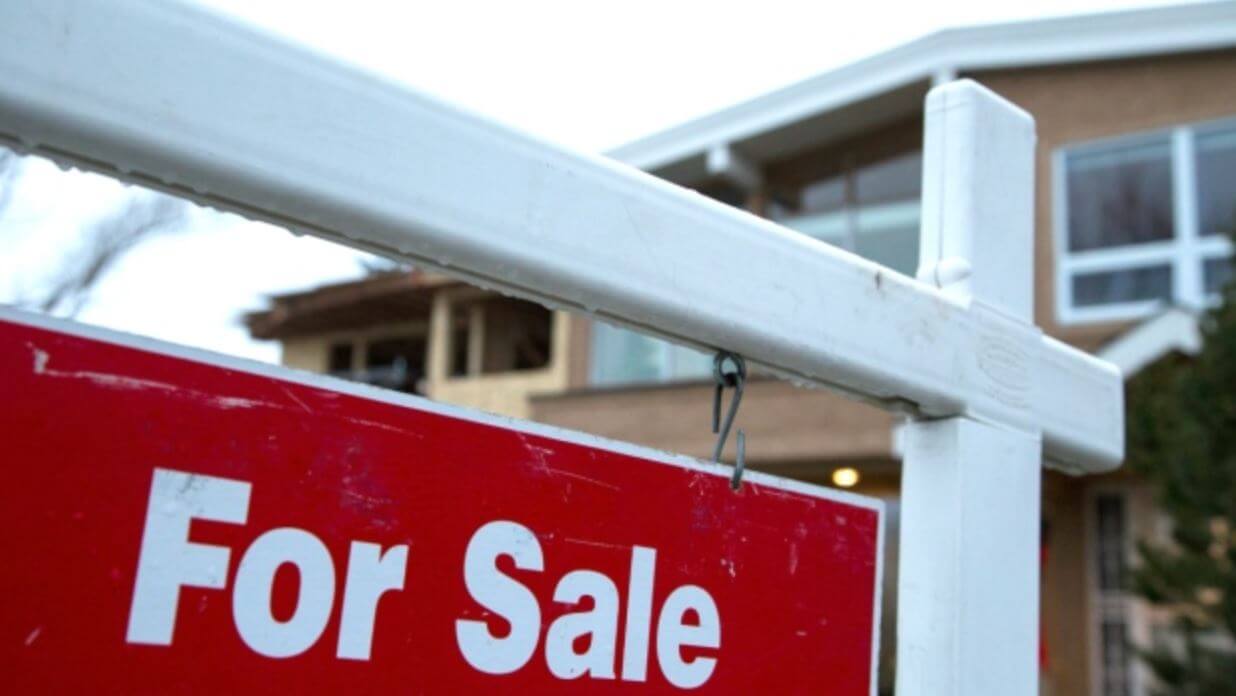 Agent Beware: Before you sign a buyer or seller request documentation
Rural real estate agents are generally pretty good at what they do. Some of them have studied the topic of water, water wells, and BC regulations extensively, providing a solid basis for trust. Unfortunately, that warm and fuzzy feeling your client had may suddenly disappear when you stop returning phone calls about the dry well on their recently purchased property leaving them in often a very difficult situation. If they tell enough people about it, your reputation and livelihood may well be on the line.
Before taking on a client or showing a buyer a property with well water, put yourself in their shoes and find the answers to the following questions:
• What tests are needed to prove the quality and flow of the water?
• Who will carry out the tests on the water well to guarantee accurate, unbiased results?
• What documentation will a serious buyer need to verify an ample supply of potable water?
• What should I recommend if the tests find a problem with the water supply that needs to be addressed?
• What resolutions have proved successful in the past to ensure a smooth transaction if there is a problem with a water well or septic system?
Whether representing the buyer or seller, you are invested in them and their families for years to come. Protect their interests and your reputation by doing the homework. Ensure all of the proper checks have been done, and the documentation is in order. And never, ever suddenly become a water well expert who takes water samples on behalf of your client—just because you think it might speed up the sale.
Every realtor's office should have a zero-tolerance policy when it comes to taking water samples. Buyers have successfully sued agents and their sales people, and—when it happens—commission checks can disappear overnight. So do the right thing and bank your commission check.
Real estate agents provide a very valuable service in British Columbia but the public deserves to be protected. There are far to many people purchasing BC land for sale and ending up with completely preventable and very costly problems because of non-disclosure often.
Buyer, selling, or enabling
—know everything you can about the water
Whether you're a buyer, seller, or realtor, what you do can go along way to ensuring a smooth, stress-free transaction. Regardless of your role, get to know everything you can about the water situation in the area by asking yourself the following questions:
• What tests and documents are needed to ensure a seamless transfer?
• What is the water reputation of the property amongst the neighbours?
• What concerns and issues may need to be addressed and remediated?
By doing your due diligence and preparing the water well system ahead of time, water wells really need not be an issue when buying, selling, or presenting a property in BC.
BC Land for Sale & Water Well FAQ
New Water Well Setbacks for British Columbia
Water Well Horizontal Setbacks for New Water Well Supply in British Columbia:

To safeguard the quality and quantity of the groundwater resources in British Columbia, new water supply wells used to supply water domestic and non-domestic must be sited at least the following distances from existing features.

6 m (20 ft) from the any private dwelling (Health Hazards Regulation);
15 m (50 ft) from an existing water supply well that is used or intended to be used (GWPR),

unless:
​
– the owner of the proposed well also owns the existing water supply well and only one well is proposed to be drilled, or
– it is not practicable to do so. In this case, a professional with competency in hydrogeology can prepare alternative specifications for the siting of the new well, so that the existing uses of the existing water supply well will not be adversely affected.

These alternative specifications must be submitted to and accepted by a BC Engineer
30 m (100 ft) from a known or probable source of contamination (e.g., cesspool, privy vault, manure heap stable, pigsty) (Health Hazards Regulation)

120 m (400 ft) from an existing cemetery or a dumping ground (e.g., landfill), unless contamination of the well would be impossible because of the physical conformation (Health Hazards Regulation)

50 m (165 ft) from the shoreline of a saltwater body.
Wells less than 500 m (1,650 ft) from the coastline are at risk of drawing in saltwater (see Best Practices for Prevention of Saltwater Intrusion).

Setbacks for new features relative to existing water supply wells in British Columbia:
To safeguard public health and groundwater quality, the discharge area of a new sewerage system or storm water infiltration system must be sited at least the following distances from an existing water supply well:

30 m (100 ft) for a sewerage system with a maximum daily design flow of less than 22.7 m3/day (Sewerage System Regulation, Sewerage System Standard Practice Manual

60 m (200 ft) for a sewerage system with a maximum daily design flow of less than 22.7 m3/day, from a high pumping rate community well (i.e. a well or well group that supplies water to more than 500 persons or is pumped for more than 3 months at a rate exceeding 190 L/min (50 USgpm)) (Sewerage System Standard Practice Manual)

90 m (300 ft) for a sewerage system with a maximum daily design flow of less than 22.7 m3/day, from a high pumping rate community well completed in an unconfined aquifer (Sewerage System Standard Practice Manual)

60 m (200 ft) for a sewerage system that has a maximum daily flow of between 22.7 and 37 m3/day, regardless of whether the water supply well is completed in a confined or unconfined aquifer (Municipal Wastewater Regulation)

90 m (300 ft) for a sewerage system that has a maximum daily flow greater than or equal to 37 m3/day (BC Municipal Wastewater Regulation)

300 m (1,000 ft) for a sewerage system that has a maximum daily flow greater than or equal to 37 m3/day, from a water supply well completed in an unconfined aquifer (Municipal Wastewater Regulation)The zone of influence of the domestic water supply well must not include the point of discharge of a non-disinfected effluent (BC Municipal Wastewater Regulation).

60 m (200 ft) for an underground storm water infiltration system (Underground Storm water infiltration – Best Practices for Protection of Groundwater Resources in BC)

If one or more of the above setback distances applies to a well, the most conservative (greatest) setback distance should be used.
Setbacks marked with an asterisk (*) may be reduced following consultation with a professional with competency in hydrogeology and/or a local regulatory authority. In these cases, refer to the corresponding regulations and/or guidelines, as special conditions may apply.
​
It is recommended that the professional consult with the appropriate regulatory authority before a hydrogeological study is initiated. For setbacks from sewerage systems under the SSR, refer to APEGBC's Professional Practice Guidelines for Onsite Sewerage Systems.

How to Register Domestic Water Wells in British Columbia
BC Domestic Water Well Registration
https://www2.gov.bc.ca/assets/gov/environment/air-land-water/water/water-wells/well_registration_form.pdf
TIPS FOR TAPS
Get a monthly update of our most popular articles directly to your inbox such as Water Well Advice including Water Testing, Well Drilling... what you need to know when buying or selling Real Estate with Water Wells and Septic Systems & other rural living topics!
You agree to get my email. I agree respect your privacy, unsubscribe anytime.